If you know me, then you'll know that I love stationery – I even worked in two different stationery stores! Well, both of those stores also had book sections in them, so, in a way, this post combines stationery and books and harks back to my early university days 10 years ago!
Book Tags are always fun and the lovely Holly @ Nut Free Nerd has tagged me in the Stationery Book Tag!  Thank you so much for tagging me!
But how does it work??
Thank the creator: Sam @ RiverMooseReads, Thank you!
Answer the questions.
Add pictures! (If you want to)
Tag (about) 5 people.
Q & A
Pencil: Favourite Children's Books
Having grown up in Germany, one of my childhood favourites has always been Das kleine Gespenst (The Little Ghost) by Otfried Preußler! It's the story of a kind ghost who'd like nothing more than to see daylight instead of haunting his castle at midnight. But when he does manage to wake up at noon he meets humans – and nothing goes according to plan.
---
Pens: A Basic Staple for Every Reader
Definitely The Hobbit by J.R.R. Tolkien!It's one of those books I think everybody should read, and it's suitable for children and adults alike. There's just something about growing up with stories about Middle-Earth, hobbits, dwarves and dragons that does wonders for your imagination.
---
Notebooks: Books you own multiple copies of
As a bilingual, I own many books in English and German editions. Whale Rider by Witi Ihimaera is one of those books. It was the first book I bought in New Zealand, on my second day of school in Auckland, because it was our required text. It has become one of my favourite books over the last 14 years.
---
Markers: Books with beautiful covers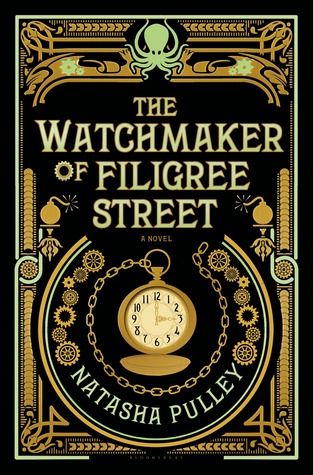 The picture really doesn't do the cover of The Watchmaker of Filigree Street by Natasha Pulley any justice. What looks like dirty yellow on the picture is really more golden, the octopus and smaller details are bright green, even the page edges are tinted green and the cover also has a cutout where the fob watch is, continuing on the layer below. It's absolutely gorgeous.
---
Glue: Two characters that work together, even if they aren't together
Possibly the best literary friendship EVER has to be between Mr Sherlock Holmes and Dr John H. Watson in Sir Arthur Conan Doyle's Sherlock Holmes. Not only are these two the oddest roommates you'll ever see, their individual skill sets complement each other and they're friendship and work relationship as consulting detectives lasted more than 40 years. They even retired together. If those are not Best Friend Goals, I don't know what are!
---
Scissors: What Book Would you like to Destroy
Eileen by Ottessa Moshfegh is probably one of the worst books I have ever read. To date, it is the only book I only gave a one star review. Incredibly boring and drawn-out, with a thoroughly unpleasant main character and a plot that only really starts on the last 20 pages, this is one book I regret reading. I wish I could have that time I wasted back to read something more worthwhile.
---
Art Kit: What completed Series do you own
I own many completed series, but the Harry Potter series by J.K. Rowling is my favourite of the lot. I also own it in my two main languages  – English and German – and it is one of my go-to book series whenever I'm down. I was 11 when I first read Harry Potter and the Philosopher's Stone, so I really have grown up with them and gone to Hogwarts in their year. Returning to Hogwarts is like coming home.
---
Tagged Bloggers
Leann @ LM Creative
Melissa @ Readerly Geek
Candace & Erika @ Literary Dust
Theresa @ The Calico Books
Nat @ An Aussie Bookworm
So tell me: What would you answer to these questions? Let me know in the comments!